Get the
leads & enquiries
you need from your business website
Your friendly local web design studio
Does your website work as hard as you do? Does it show up in search results, and appeal to your target audience?
If your site got you off to a good start but no longer represents your business, we're here to help.
Is your current website working for your business?
Not sure how good your current site is? Or know it needs to be better but not sure what to change? Take our quick website test to find out how to make your website amazing!
Web design that helps you get more of the right types of customers
What if your website could be your best sales person, building and nurturing relationships 24/7?
For our clients, that's not a dream. It's a reality.
We're here to help you squeeze even more value out of your website. And we do that by making sure your site is always speaking to your target audience.
You already understand the types of customers that your business needs to grow. At Fifteen Three, we make sure they can find you.
Bigger things on your mind than tinkering with your website? Let us handle it all for you…
Design is about more than just pretty pictures. A well designed website can be a powerful communications channel that speaks to your target audience, delivering the right message, in the right language.
We work to ensure your site remains up-to-date, secure, and performing to the best of its ability for the long term, leaving your leads happy and satisfied. Because great online experiences are key to impressing visitors. 
Great websites don't just impress visitors – they draw them in, too. Our SEO services help your site appear higher in the Google rankings, making it easier to attract the quality leads and ideal clients your business needs.
Fantastic websites
are what we do best!
Our confidence comes from our experience. We've worked with all sorts of organisations – big and small – gaining first-hand knowledge of what works, and what doesn't.
For the last 10+ years, our founder Chloe, has been designing and building websites that help businesses just like yours attract more leads, drive more traffic, and convert more visitors.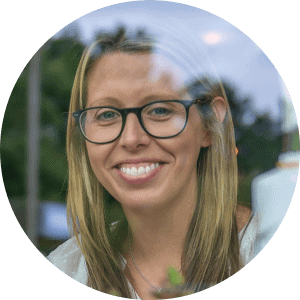 Chloe Briggs
Founder & Website Consultant
Whether this is your first time working with a web designer, or you're thinking about switching agencies, it's natural that you'll have a few questions. We've answered some of the most commonly asked questions below, but feel free to get in touch with us directly about anything that's not covered here.
How can a new website help my business get more sales?
A website can do much more than just create a digital presence. It holds the potential to be your most powerful digital asset, guiding visitors along their journey – from awareness to consideration to decision – without needing intervention from your team. When your website is doing more of the work, your team is free to focus on those sales tasks that require more of a human touch.
Are you the right company for me?
Let's find out! We know that it's hugely important to work with partners that share the same values, beliefs, and passion that you do. That's why we're committed to operating in an open, honest, and transparent way, always being clear about who we are, and what we're all about.
Check out our Google reviews and, if you like the sound of us, schedule a call so that you can get to know us better.
How long will it take to get my new website up and running?
As you can imagine, every business website is different. Each has its own strengths, and areas where there's room for improvement. There's no definitive timeline for how long a website transformation will take.
Typically, when our clients already have an idea of the text and images they want to use, we can be ready to launch within 8-12 weeks. If we're starting from scratch, projects take a little longer.
How much does a business website cost?
This will depend on what you need. At Fifteen Three, we believe in being open about our fees, and you can find a full breakdown of costs on our pricing page.Our packages start at £2,495  + VAT for a 5-page site, with the option to customise your services with add-ons to ensure we're meeting your needs. We also offer payment plans if you'd like to spread the cost of your new website.Don't see a package that suits you? That's OK! Chat to us and we'll tailor a plan, just for you.
How do I know what should go on my website?
Don't worry if you're not sure what you need. We're here to help you figure it all out. We start every project with a discovery workshop, where we take a closer look at your target audience, and their expectations and requirements. When we fully understand who you're trying to attract and engage with, we're able to develop a custom content plan that will help your business to stand out.
Can you also help with the content for my new website?
We sure can! Of course, the option to create content yourself is always there. But we understand that you may not have the time, resources, or expertise to develop new content for your site.
We work with a team of fantastic content writers who can turn your brief notes and ideas into powerful content that speaks to your audience. This is an add-on service, costing around £150 + VAT per page.
In situations where we believe SEO will make a real difference, we can help optimise your website for improved results. If your existing website is very poorly optimised, or presents with highly complex SEO issues, then we may refer you to one of our specialist SEO partners. We're selective about who we partner with. We only use experts who we'd be happy to work with on our own site.
What about hosting, domains & support?
Yes, yes, and yes. We provide hosting, website maintenance, and ongoing support as part of our WebsiteCare plans.
We can also look after your domain(s) for you, renewing on your behalf as needed, while still ensuring you retain ownership of your domain. This service is incredibly cost-effective, costing just £75 + VAT every two years for .co.uk domains, or £95 + VAT every two years for .com domains.