If you're not sure what a domain name is or why it's important you're not alone. Some of the most common questions we're asked are about domain names and website hosting.
While everyone who has a website has a domain name, it's often not well understood exactly what a domain name is, what exactly it's used for and how to pick the best one.
First things first, a domain name is simply the address of your website on the internet. When people type this address into their internet browser they can view your website.
For example, our domain name is: fifteenthree.co.uk – if you look in your browser's address bar, you'll see that's what this page's address starts with.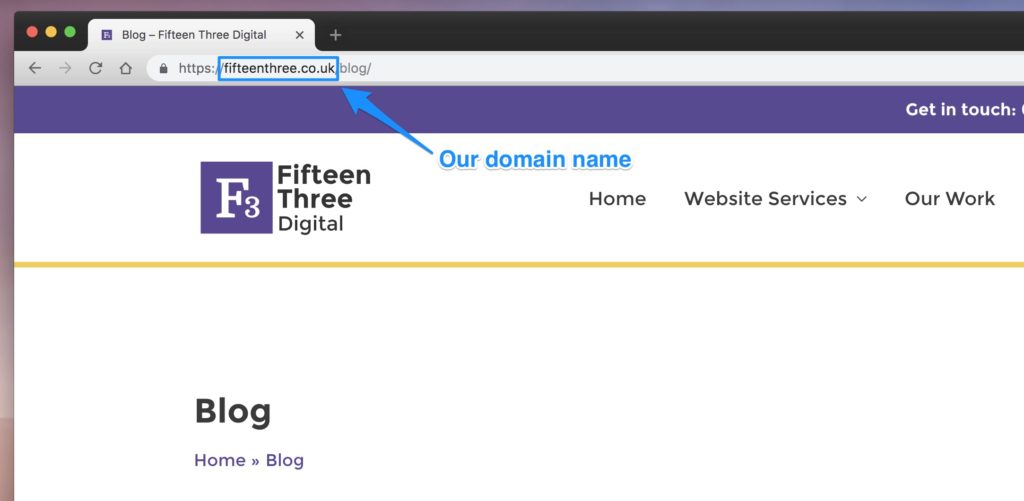 Choosing a domain name for your business
Your domain name will be visible to anyone who visits your website and will also be present in your company's branding and other marketing materials so it's really important that it represents your business in a positive way.
Potential customers should be able to read your domain name and recognise your company so it should include your company name – this builds trust that they're in the right place and your website is legitimate.
You may also need to say the domain out loud for example when you're speaking to a potential customer or when you're giving someone your email address, so the simpler the better.
Just try saying the two domains below out loud to see what I mean. Which one is easier for you to say and someone else to remember?
companyname.co.uk
company-name-limited.net
Ideally your domain name should be memorable and not too short but not too long. The perfect domain name should be meaningful to your audience, catchy and easy to remember and no more than 25 letters in total.
Your domain name can also play a role in your website's ability to be found in search engines like Google, although this is not as important as it once was.
Using domains which contain keywords that your customers might be searching for (or "keyword rich" domains) – used to be a sure fire way to get to the top of the search rankings, ie:
plumbersnorthampton.co.uk
webdesigndunstable.com
cheapgolfequipment.co.uk
Nowadays though, search engines are much cleverer and place more weight on factors such as high quality website content, relevance, social proof and site structure rather than a keyword stuffed domain.
We always recommend keeping your domain name simple unless there is a relevant keyword you can add to the domain to help a visitor understand what your business does more quickly ie. a firm of accountants might add the word "accountant" to their domain name if their company name on it's own doesn't make it clear what they do.
Should I use a .co.uk or .com domain name?
You probably already know that there are different types of domains and that domains can end with many different suffixes depending on what they are being used for. The most popular domain suffixes (or top level domains) are .co.uk, .com, and .org but there are now many more to pick from, for example .photo, .golf, .health or even .pizza!
When it comes to picking a domain name, we always recommend keeping it simple.
In most cases, if your business is based in the UK and targeting a UK audience then you should pick a .co.uk domain name. This keeps it simple and professional and clearly communicates that you're a UK business.
If you're targeting any other markets beyond the UK then a .com domain name will be more appropriate as .com is an international domain. This helps position your business as a global company and builds trust with potential clients and partners not based in the UK.
Registering your domain name
Once you've decided on your domain, you have two options. You can either register your domain yourself through a domain registrar like 123Reg, or have your web design agency register and manage it on your behalf.
If you know what you're doing then it's a good idea to register your domain yourself under your own account and give your web design agency the access details when they need to make changes. This means that you own your own domain name directly and you'll always have access to it if the settings or configuration need to be updated.
On the other hand, if you're not sure what you should be buying then it may be beneficial to have your web design agency register and manage your domain on your behalf – they will know exactly what's needed and you also reduce the risk that someone will lose the details and forget to renew it. 
If your web design agency are also managing your website then it can also be more convenient to have everything in the same place.
Domain names are separate from website hosting
Although the two may often be bundled together, your website hosting and your website domain name are two separate things.
As we covered above, your domain is your website's internet address – like a telephone number. Your website hosting on the other hand is the space on a server where your website is stored.
When someone types your domain name into their internet browser window, or clicks on a link, then your domain name settings point the browser at your hosting server and your browser downloads and views the website files.
These are two separate services and can easily be bought from two different suppliers. In fact if you're buying these services yourself we recommend that you DON'T buy them from the same supplier.
Domain registrars tend to offer terrible website hosting and great website hosting companies don't always offer domain registration services.
We recommend 123Reg for registering domains.
See our guide on website hosting for more information on what web hosting is, what you should be looking for and which hosting companies we recommend.
Can you manage my domain for me?
Yes we can manage your domain and send you a bill at every renewal (usually every 2 years). This is an extra service we offer to all of our WebsiteCare plan clients so that your website, hosting and domain name are all registered in the same place and easy for you to keep track of.
We can help you get your domain transferred over to our provider – you will still own the domain though and we'll make sure it's registered using your name & address.